We've created a Disney Guess The Quote Game, which you can print out for FREE and use on the hen night. Choose your favourite design below and start planning the most magical Disney hen party you can conjure!
Planning a hen party for a bride-to-be that loves a Disney movie night? If you've chosen Disney as your hen do theme, then a hen party game that features the enchantment of the films might be the perfect answer.
The Disney Guess The Quote Game
How to play
Print out one of our FREE game cards (below) with the character quotes.
Read each quote out loud or play the quote clips from each film on your TV.
Ask your hen do group to write which character they think said each quote.
The hen with the most correct answers wins!
What you'll need
Printed game card with quotes listed.
Your best character impressions or clips from the films showing the quotes.
The list of answers (see below)
Download our printable version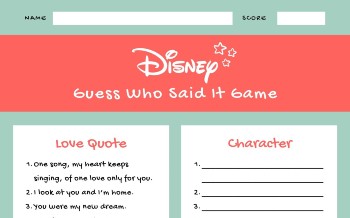 Download the Disney Guess Who Said It Game in the pink and blue design [PDF 39KB, 1 page]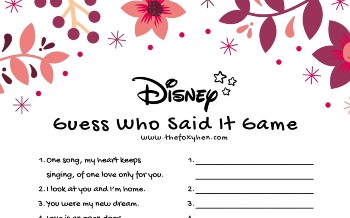 Download the Disney Guess Who Said It Game in the floral design [PDF 54KB, 1 page]
The answers
Snow White, from Snow White And The Seven Dwarves
Dory, from Finding Nemo
Flynn, from Tangled
Anna & Hans, from Frozen
Giselle, from Enchanted
Tiana, from The Princess And The Frog
Bob Parr (The Dad), from The Incredibles
Olaf, from Frozen
Cinderella, from Cinderella
Prince Eric, from The Little Mermaid
Princess Aurora, from Sleeping Beauty
Belle, from Beauty And The Beast
Image credit: King Lip, by Unsplash