Disney themed hen parties are such a popular hen do theme because it really lets the bride and all of your ladies' imaginations run wild. From Disney Princess costumes to playlists and creative food ideas, organising a Disney hen party is a lot of fun!
All you need to make the whole 'do' complete is a Disney themed game to start or finish your hen night – and we have the perfect one. If your ladies love to sing along to the Disney classics and pretend they're Aurora, Jasmine or Cinderella, then the Match The Love Song game is perfect for your hen do.
The Disney Love Song Game
How to play
Playing the Guess The Disney Love Song hen do game for your group is super simple:
Print out one of our FREE game cards (below) with the song questions.
Play each song (using Spotify or similar) in the order shown on the card.
Ask your hen do group to write which matching movie title the Disney love song matches with.
The lady with the most correct answers is crowned Queen of Disney!
What you'll need
Printed game card with songs listed.
Disney songs to play on your chosen streaming service.
The list of answers (see below)
Imagination and your singing voices!
Download our printable version
We've created a free Disney Love Song Game printable for you to download and use on your hen weekend away.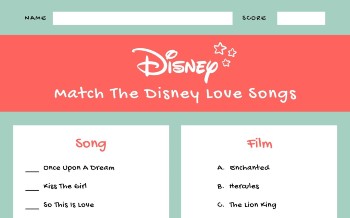 Download the Disney Match The Love Song Game in pink and blue design [PDF 38KB, 1 page]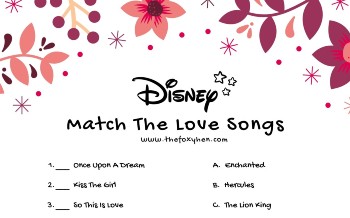 Download the Disney Match The Love Song Game in the floral design [PDF 55KB, 1 page]
So save yourself the hassle, add this adorable hen party game to your plans and send us your photos on Facebook or Instagram (@thefoxyhen or #thefoxyhen)!
The answers
A = Once Upon A Dream, from Sleeping Beauty
B = Kiss The Girl, from The Little Mermaid
C = So This Is Love, from Cinderella
D = When You Wish Upon A Star, from Pinocchio
E = A Whole New World, from Aladdin
F = Love Is An Open Door, from Frozen
G = Tale As Old As Time, from Beauty And The Beast
H = I See The Light, from Tangled
I = Never Knew I Needed, from The Princess And The Frog
J = True Love's Kiss, from Enchanted
K = You'll Be In My Heart, from Tarzan
L = I Won't Say I'm In Love, from Hercules
M = Bella Notte, from The Lady And The Tramp
N = If I Never Knew You, from Pocahontas
O = Can You Feel The Love Tonight, from The Lion King
P = Someday My Prince Will Come, from Snow White And The Seven Dwarves
Image credit: Debby Hudson, by Unsplash