Introduction
If you're planning a hen do, then we're sure you've come across mention of hen party bags. They are part merch to add some class to the look of the whole 'do' and part survival kit with essential items to help the girls stay in a party mood.
We've put together this guide to building the perfect set of hen party bags for your ladies, with the basic items, some special touches and our list of fave bags to put everything in.
What is a hen party bag?
Basically, a hen party bag is a bag you get at a hen party. However, what makes it better than, say, a Tesco bag, is that:
it'€™s filled with cheeky stuff to make you laugh,
and it'€™s not a Tesco bag.
Although you can buy ready-made hen party goody bags from the internet, it'€™s way more fun to get together with your fellow hen planning committee and tailor them to your needs and the general theme of your party (if you have one).
Before pulling together a hen party goody bag, it'€™s important to know whether you'€™ll be partying at home or out on the town, so you know what kind of stuff you might need. If you'€™re having a house party, you may or may not want to forego the L Plates, whereas they'€™re practically the law if your hen party is going to be stepping out in the city for the night.
Do I need to make hen party bags?
The short answer is no '€" hen party bags are completely optional. However, if you're looking for special touches to add to your hen party planning and ways to spoil the girls, then bags are an easy win.
Not only will they help your hen do group to survive the night (and the next morning) but they'll also add stylish looks and fun items that will help make your hen photos really stand out.
Basic hen party bag fillers
Since the dawn of time, hen party bags have been layered on a few essentials. It'€™s not mandatory or anything, but if you want to go down the traditional route, you gotta have the key bits and pieces inside, such as:
1. Personalised hen do t-shirts
It'€™s kinda like a rite of passage to wear a shirt emblazoned with the bride'€™s name on your night out. The shirts should be bold enough to make you stand out (which is also helpful for when you'€™re trying to find your mates on the way back from getting a round in at the bar) and often also contain everyone'€™s name and the date, etc. You can go to town with this and be as creative as you want. 
2. Name tags
Let everyone know who you are when you'€™re in the pub. Or, if you don'€™t fancy the world knowing your name, why not use nicknames? Obviously, if you'€™re at home, actual names are fine but it can be a bit safer to use pseudonyms if you'€™re out in a random city surrounded by even more random strangers. 
3. Hen party sashes
We'€™ve never seen a single bride on a hen night who hasn'€™t been wearing a sash. Or a sash and L Plates. Or a sash, L Plates, and a personalised t-shirt. As it'€™s your sworn duty to embarrass the bride as much as humanly possible, it'€™s only right that you do all three, because obviously.
You can pick up ready-made sashes in most card stores these days, or you can always hop on to Etsy or eBay and find tons of small businesses that will personalise them with the bride'€™s name, or '€˜bride-to-be'€™. We'€™re sure you could also ask them to print a nickname or, even better, the pet name her fiancée has for her. In for a penny, in for a pound. 
4. Hen party novelty straws
Hens don'€™t let the bride-to-be drink her cocktails from anything that'€™s not completely embarrassing/juvenile and/or phallic. Novelty straws come in some quite jaw-dropping, ahem'€¦forms, so go wild and get those cameras ready. 
5. Tiaras or headwear
Because you haven'€™t worn one since you were 10.  And now you'€™re not 10, a hen night is really the only time you can wear this in public and get away with it. Unless you'€™re the Queen, of course. The bride should always have a unique crown and you can bulk buy for everyone else. 
6. Paracetamol
We feel like this one doesn'€™t require a whole lot of explanation. However, it won'€™t have escaped your notice that we have all sorts of hangover cures now and paracetamol is just one of a plethora of things to reach for the morning after. We personally swear by Berocca, Alka-Seltzer, Ibuprofen, Paracetamol, bacon rolls and a reeeealllly long lie, but you do whatever works for you. However, if you don'€™t use any of these things, you didn'€™t do it right.  
Unique hen party bag fillers
Ok, so we'€™ve covered the basic items that should be included in your hen party bags, but what can you do to make sure your goody bags are a bit different from everyone else'€™s? To be honest, you can literally put anything into the bags, and we adore personalised gifts that can be used after the hen night is done. What goes into the bags is usually dependent on the budget and what the night itself is likely to entail. For example:
7. DIY quiz cards
If you'€™re having a hen night house party, what could be more fun than pulling together your own game of '€˜How Well Does She Know the Groom?'€™. For this, you will obviously need the groom'€™s input.  You'€™ll need him to make a list of questions of facts he thinks she should know about him, like his favourite song, where they first met, first date: anything goes here. The hens will have the question cards and list of answers and you can Mastermind the CRAP out of her specialist subject.
Alternative games include, Would I Lie to You? Where everyone can read out a '€˜fact'€™ or stupid story about themselves and everyone else gets to ask 3 questions before deciding whether it'€™s a lie or the truth, or Guess Who, where everyone lists a secret about themselves and someone else reads it out. Prizes go to whoever can match the story to the hen. 
8. Lip balm or gloss
It'€™s rare to find a woman without lip balm or gloss either on her person or in her handbag. We'€™re too organised to let that kind of thing slip. Given it'€™s an everyday item (and sooo useful), having your favourite colour or flavour in personalised pots in your hen party bags is a sweet way to commemorate the occasion. We really love anything prosecco flavoured but there are so many choices and so many small businesses to help you find your perfect match.
9. Mini bottles
Much like the lip balm, cute bottles of fizz or wine can be affixed with unique labels and ribbons to include in your hen party goody bags. The only thing we don'€™t like about these is, they look so pretty, it almost feels wrong to drink them. Almost. Pair them up with your novelty straws. 
10. Memory books
Get together with the hens and come up with your favourite memories of the bride. This can be something you experienced together or simply a short statement about how much she means to you; it'€™s entirely up to you.
Once everyone has had their input (and feel free to widen the pool to any relatives who might not be attending the hen party), get them printed up into a keepsake. This needn'€™t be expensive, but it'€™s absolutely something the bride will cherish and re-read. Free shot to the first person who makes her mascara run.
11. Sweet treats
Does the bride-to-be have a sweet tooth? Or is she big into her baking? Then why not include a small decorative bag of sweets or a boxed up (homemade?) brownie in each of your hen party bags?
Everyone loves something sweet and it might help boost their energy for the night ahead. You could even make sure to cater for any dietary needs in the group by making your sweet something gluten-free and vegan.
Bonus points: Match your sweets or the cake icing to your hen party colour scheme.
12. Hair ties & headbands
We love a cute hair tie as much as we love a headband for keeping our hair out of our face while we wash our face. Not only can you add these to your hen party goody bags, but you can have them hen party themed.
We'€™re fans of the '€˜to have and to hold'€¦your hair back'€™ slogan but, with anything these days, you can pretty much personalise them in any way you please.  These are hen party bag items that can be used again (hopefully'€¦), and it'€™s a lovely keepsake from your night.
The only downside is that, if you have them on you during the hen night, you run the risk of making a friend redundant from the whole '€˜holding your hair back while you'€™re being sick'€™ thing. That'€™s a little sad if we'€™re being honest. You haven'€™t really bonded as friends until you'€™ve held someone hair back while they'€™ve puked. It'€™s in the rule book. 
13. Drink bling
Add some bling to your hen party bags with some drinkable prosecco shimmer glitter or wine/prosecco glass charms. Not only will it help make the whole event feel a bit more glammed up but the charms will help the girls to remember which cocktail is theirs (super important, the more they have…).
14. Hen party lanyards
Adding lanyards to your hen do bags is a great idea if you're planning a Hen Fest or festival of the bride. You can decorate them to match your hen party theme and use them as special name tags, in case you have a group who don't all know each other.
Hen party bags we love
1. Bride squad bags
We adore these gorgeous Bride Squad hen party goody bags from Etsy. They'€™re simple, classy, and the stylish design is perfect for holding all that hen party swag.
Buy them from Etsy.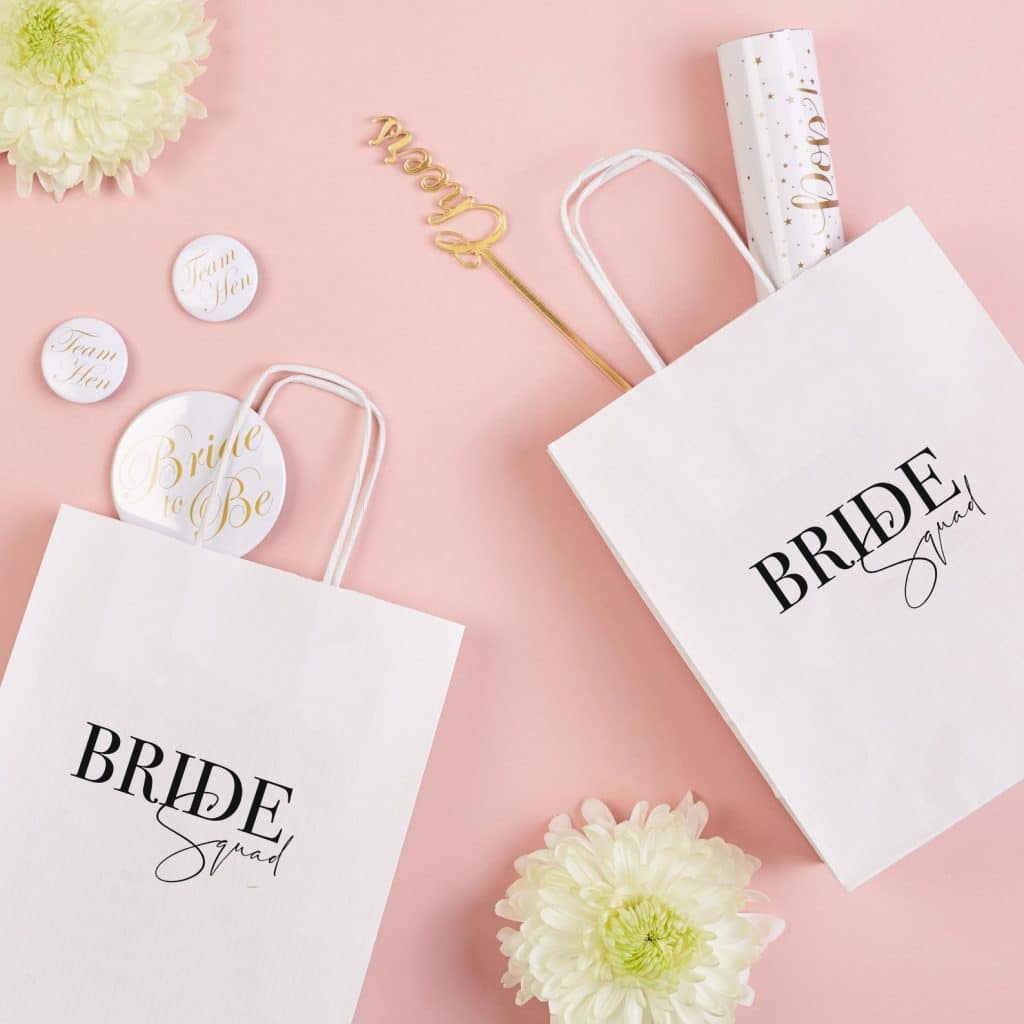 2. Canvas hen party bags
Instead of a bag that gets tossed at the end of the night (if it makes it that far), how about a hen party bag you can use again? These cute tote bags can handle all your party treats and have the added bonus of being strong enough to take to the supermarket for your mid-week bread and milk. OK, mid-week wine and Doritos, we'€™re not here to judge. 
Buy canvas bags like these on Amazon.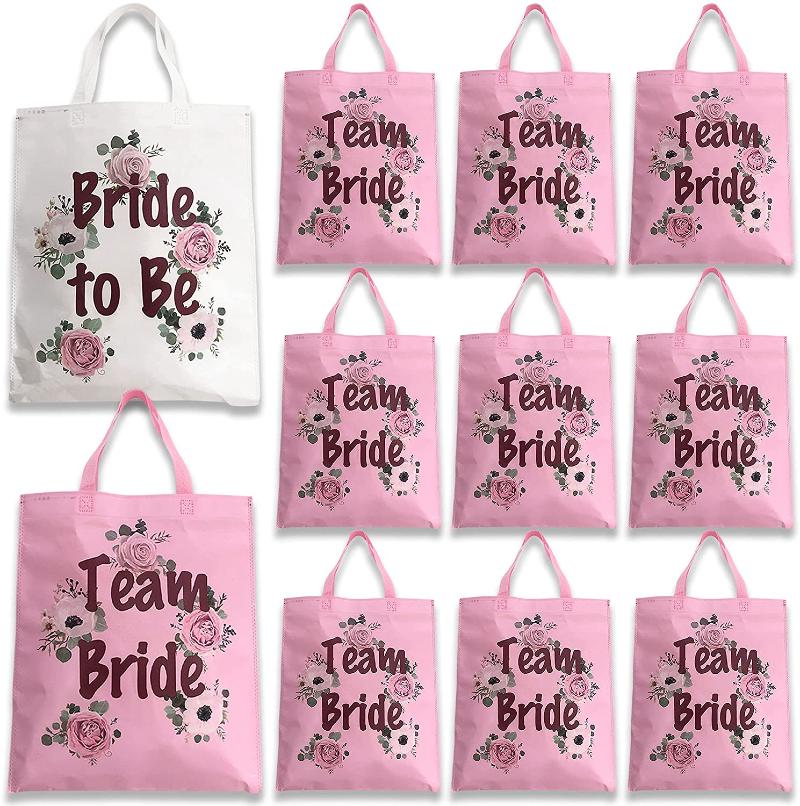 3. Cheap and stylish paper bags
Check out the range of pretty, girly hen party bags from Ava Graceful Design'€™s eBay store. They come in three different designs: Vintage, Hen Party Lips, and Bride Tribe.  We love the vintage bag, but all the designs come with tissue paper innards to make them even prettier.
You can buy any of the styles on Ebay.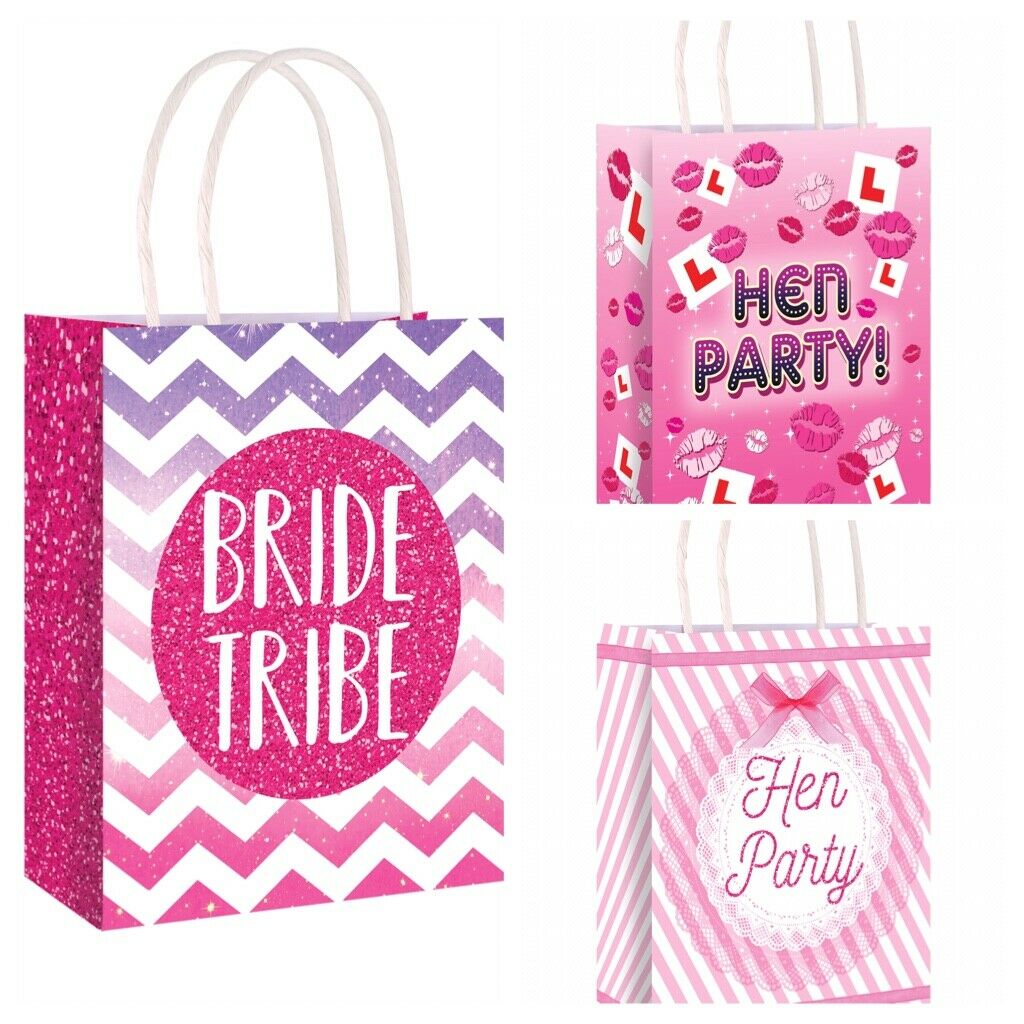 Conclusion
We hope we'€™ve provided some inspiration on hen party bags and what amazing stuff to put in them. You'€™re the people who know the bride the best, so you'€™ll no doubt already have an idea of what she'€™d love and what will ensure she'€™s completely mortified. We say go for both.
We have plenty of other hen party ideas and the best destinations in Ireland, the UK and Europe to plan the perfect hen do.