Being a bridesmaid is a big deal. It might seem like a walk in the park (or down the aisle) but there's more to it than you think.
It's your duty to make the bride's day perfect and you might be wondering how to make that happen. First step – read through this list of the top bridesmaid duties you may need to take on.
The bridesmaid role doesn't have to be stressful, as long as you plan ahead and keep in touch with the bride's wants and needs throughout the journey.
Top 4 bridesmaid duties
If you've been chosen for the role, these top 3 items are the bridesmaid responsibilities you will definitely touch on, or even take charge of:
1. The bridal shower
It's one of the bridesmaid duties to arrange the bridal shower, which generally takes the form of an afternoon tea and gift-giving party a few weeks before the big day.
The bridal shower will usually include all the female members of the bridal party, as well as extended friends and family – particularly those that might not be up for the hen night. The shower should be a relaxed and fun event for the bride and should be a stress-free afternoon where she can take a break from wedding planning.
All you need is a good venue, some decorations, afternoon tea, and her squad. Let's face it, you know she needs a new cutlery set and Aunt Barbara is the best person to get it for her.
Keep in touch with everyone on the list, discuss gifts, timings, and the schedule for the day. That way, you're bound to be on to a winner. 
2. Dress shopping
One of the most important of all pre-wedding bridesmaid duties is to be available for a whooole lotta dress shopping. It's your mission in life to ensure your bestie doesn't look like a meringue when she's walking down the aisle. You don't want her to look back on her photos in 10 years' time and ask why you told her she looked good like that.
You can do some research on retailers, days, times and most importantly, knowing who serves free glasses of champagne with fittings. Dress shopping is a bridesmaid duty that can take a fair bit of time, so patience is the key. You need to be on board with the colour schemes and help to make sure everyone matches up beautifully. 
3. The hen party
You know the bride well enough to know what she'll love and what she'll hate and it's one of your most important bridesmaid duties to take that into account.
Not everyone is extroverted enough to genuinely enjoy being dressed up like a fairy, holding a bucket, and turning heads in the city centre. If your girl is this way inclined, then go for it. If not, you need to go low key and make sure you don't give her a night to remember for all the wrong reasons.
Firstly, you need to work out whether this is a home or away fixture. Are you travelling to your local city, one somewhere else in the country, or hopping a flight to somewhere unknown?
Is it a single night, or a full weekend of festivities? This needs to be accessible to everyone involved, so budgets and time are important factors. It can't be assumed that everyone can do a weekend in Marbs and fit it around their kids, work, and disposable cash. On the other hand, if it's organised far enough in advance, this might well be a possibility.
It's up to you and your team to chat about it, get some ideas, and make sure you come to a decision that suits everyone. 
4. Be an administrator
There's plenty of admin to be done on the run-up to the wedding, such as keeping track of gifts, suppliers, menus, and anything else the bridge wants to be part of your bridesmaid duties.
It's best to have a system in place to make this as easy on yourself (and everyone else) as possible. It doesn't have to be anything fancy, but make sure you do it bit by bit and don't leave yourself stressing over details the night before.
If you act as the point of contact between bridesmaids and other female wedding guests, it can really ease the pressure on the bride and stop her having to do everything on her own.
Also, it might help to keep her mother-in-law out of the organisation…especially if she's known to be quite demanding. Your mate will be eternally grateful. 
Other possible bridesmaid duties
5. Wedding hotel, hair and makeup
It's tradition for the bride and her mates to spend the last evening of her freedom in a hotel, getting pampered and drinking champagne. And if that isn't actually a tradition, it certainly should be.
Your bridesmaid duties include being on the lookout for a local hotel, pampering package (or a DIY package is just as fun) to help everyone chill out the night before the big day. It doesn't even have to be a hotel stay, it can simply be a stay at yours, with movies, take out, and good friends.
Whatever it is, make it fun and have a laugh. There are tons of party games you can play, and this is where a DIY Wedding Survival Kit comes into play. You can put anything into your party bags, and the sillier, the better.
This is also the time to give the bride her 'something blue' or a personal gift for her special day.  Before you start on the champers, just make sure all the hair and makeup arrangements are made and that everyone is in place for the following morning.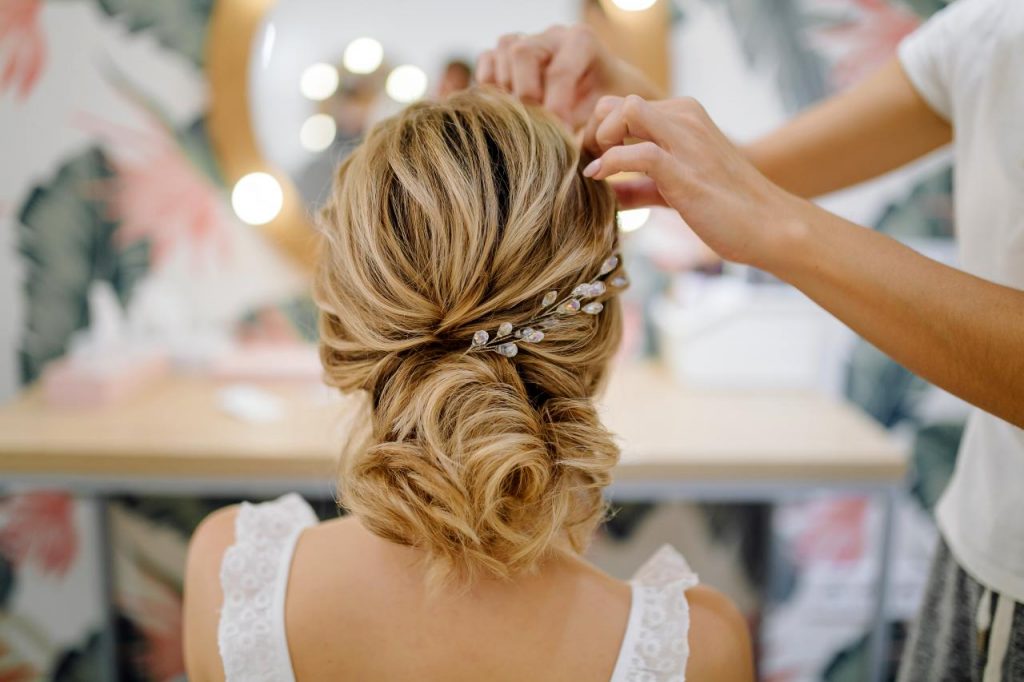 6. Wedding kit
The bride already has so much to think about on the day of the wedding. So, it's up to you to have an emergency kit on-hand for makeup touch-ups, wet wipes, event timings, names of the partners of people she hasn't seen for a while and, basically, everything that will make her life that bit easier throughout the day.
Many bridesmaid duties are shared between a number of bridesmaids or handled by the maid of honour. But it's worth checking to see who the bride would prefer to take on this role for the wedding day.
Resource: Check out the ultimate wedding emergency kit checklist.
7. The bride's food
It may seem like a stupid thing to say, but one of your bridesmaids duties should also be keeping a check on the bride eating and drinking. You may assume she's doing it, but she might be too stressed out for that bacon croissant you made for breakfast.
Keep an eye on it. She won't be able to enjoy herself if she's ill or falling down tired. 
8. Wedding photos
Rounding up people for the wedding photos among those that have wandered off to the bar, found someone to chat to at the other end of the venue, or seem to have disappeared into thin air, can be quite challenging. It's one of your bridesmaid duties to keep them close at hand and make sure you can get the group photos done in good time.
At the end of the day, the photos need to be done right but they don't have to take forever. Get your list of who needs to be where and when and stick to it rigidly. No bride wants to be hanging around in the cold, waiting for Great Uncle Bob to show his face.
It can even be an idea to work out a schedule beforehand and let the concerned parties know the basic timings. If your bride is also concerned about guests posting photos on social media, this is the time to let them know it won't be well received.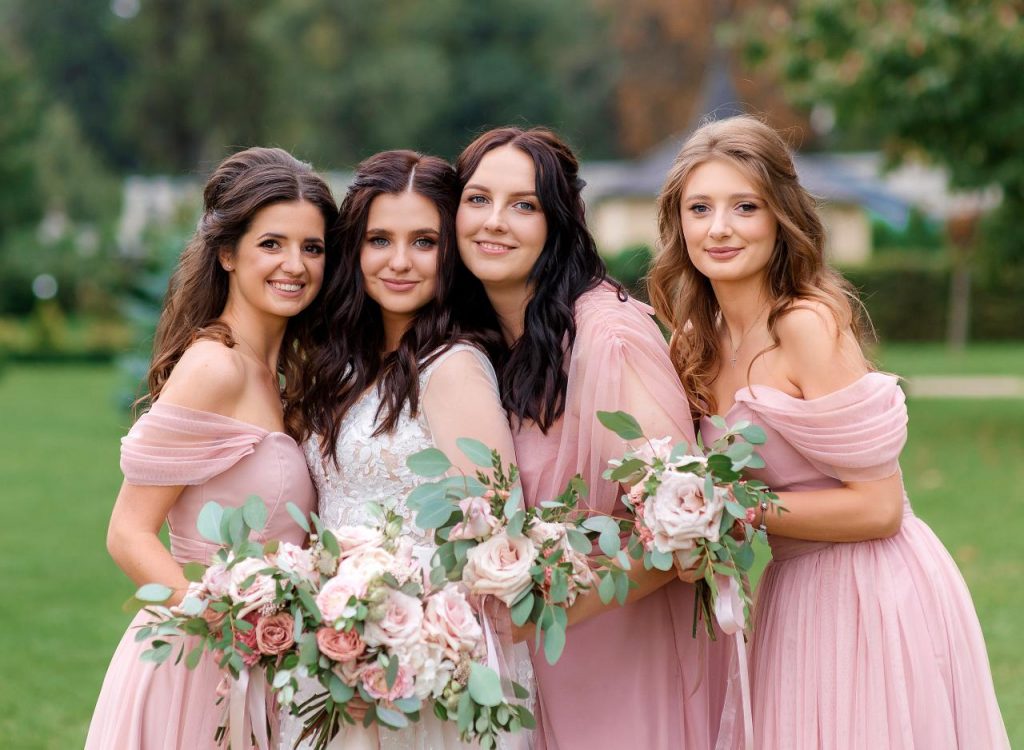 9. Table arrangements
As with the photos, one of the most important bridesmaid duties may be to make sure everyone takes their allocated seats, and that service can start at the allocated time. Whether the speeches and toasts are before or after dinner doesn't really make any odds, but it's imperative that everyone is seated and paying attention when they need to be.
The timing of the toasts will obviously coincide with the raising of glasses, so everyone needs to have their hands on the toast at the right time. You might well be seated at the top table, so make sure you can see what's going on and be able to gently coach people into their places, if needed. 
10. Music/dancing
The first dance is one of the most memorable parts of the big day, so it needs to be done right.
One of your bridesmaid duties might be to liaise with the DJ or wedding band to make sure the songs are in order and that a playlist has been received and is ready to go. This includes not only the first dances but also what will be played at the very end.
Obviously, the playlist should include some of the bridal party's favourite tracks, as well as the usual classic party tracks that get everyone up on their feet. It should also go without saying that getting the party started is one of the most essential bridesmaid duties of the day. If no one is taking the initiative to be first on the dancefloor then, guess what? Yep, you get to do it!
Get your party shoes on and don't be scared to kick off the evening's festivities by dragging the bride to the floor and belting out your favourite tunes from back in the day. 
Conclusion
While bridesmaid duties vary from wedding to wedding, and from bride to bride, there are some basic duties that every bridesmaid must undertake.
Whether you're flying solo for some of it, or are simply assisting with decisions, it's up to you to make the hard stuff fun and the easy stuff even more fun. The organisation shouldn't be a slog and those memories are important, too.
If you do a bang-up job, you'll be able to relax during the day and know you've given your all to make the bride's special day easy and unforgettable.